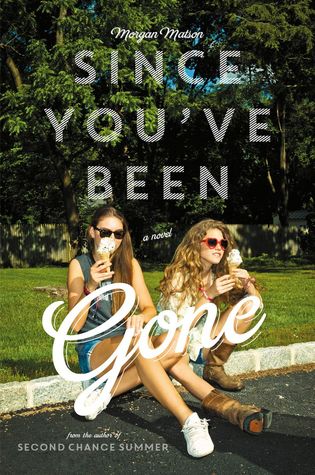 Source: Simon and Schuster (Thank you so much!)
449 Pages
AUD Retail Price: $16.99
Book Depository:
http://www.bookdepository.com/Since-Youve-Been-Gone-Morgan-Matson/9781471122668
Barnes and  Noble:
http://www.barnesandnoble.com/w/since-youve-been-gone-morgan-matson/1117053523?ean=9781442435001
The Pre-Sloane Emily didn't go to parties, she barely talked to guys, she didn't do anything crazy. Enter Sloane, social tornado and the best kind of best friend—the one who yanks you out of your shell.
But right before what should have been an epic summer, Sloane just… disappears. No note. No calls. No texts. No Sloane. There's just a random to-do list. On it, thirteen Sloane-selected-definitely-bizarre-tasks that Emily would never try… unless they could lead back to her best friend.
Apple Picking at Night? Okay, easy enough.
Dance until Dawn? Sure. Why not?
Kiss a Stranger? Wait… what?
Getting through Sloane's list would mean a lot of firsts. But Emily has this whole unexpected summer ahead of her, and the help of Frank Porter (totally unexpected) to check things off. Who knows what she'll find?
Go Skinny Dipping? Um…
There is only one word to describe this book…actually two: fun and lighthearted. I've noticed something about Matson's books. Her protagonists are always achingly shy. The conversations at the beginning of the novel are always awkward and you just pray that it'll end soon and as the book progresses, she becomes braver and recognizes the need to take a chance. I loved this book even more that Amy and Roger's Epic Detour, I think it's because I related more to Emily. She's very similar to Amy but in this book, she was more willing to learn and find something new. I highly recommend this book, its hilarious, the playlists are awesome and the summer atmosphere is awesome. Its a great contemporary read about summer, friendship and love. It isn't soppy or cliche but relateable.
My rating: 95%
Spoilers
One of my utmost favorite parts of Matson's book are the playlists. In this book, especially, I actually recognised the songs and I realised that Frank and Emily share the same taste in music as me(twinsies!!!). I got that giddy feeling you get when you share something with a book character. I loved it! I'm not the only one who listens to First Aid Kit! They rock, guys!
Matson's books start off quite slow; building up the character's shyness, line of thoughts, family and friends and once you get into it, you cannot stop. It is slow at the beginning but it's very satisfying when you finish the book.
What I enjoyed about this book was not only the significance of a romance but of friendship. At the beginning, Emily isn't her own person. She relies on Sloane to talk for her and to make her feel confident. Without her, she feels secluded and invisible. Their friendship is important, it's funny and close. They're like salt and pepper. As the book progresses, she is forced to make new friends and make the most of a lonely summer through the list. Frank, Collins and Dawn were the most unlikeliest friends but somehow it worked perfectly.
Frank was so sweet. He was the perfect student, school president, high grades, involved…..everything. I loved how Emily got to know him and how she realises that he is actually a human with problems. It seems that in all of Matson's books, the romance starts as friendship then develops into more. After, then the girl is the one to make the first move. I liked that.  That the girl doesn't always have to wait for the guy, that we can be the one to make the first move.
Collins and Dawn were great friends! Laid-back, funny and reliable. I loved how Collins and Dawn were both able to relate to Emily in different ways; friendship and romance. All of these things helped Emily to find herself as a person. What disappointed me was that we didn't get closure about Dawn and Emily at the very end. Dawn pulls away because Emily kisses Frank when he has a girlfriend but we never got to see how they made up. That was what I wanted. That their summer friendship wasn't just a fling.
Lets talk about Sloane.
We now that she is very vibrant. Throughout the book, I became angry at her for abandoning her best friend but then again, I wasn't because she helped Emily find herself. But, I still don't know what to think about her. I didn't like her relationship with Sam but I liked how she was there for Emily. At the end, we find out Sloane moved again and decided to leave without notice because she didn't want the hardship of saying goodbye. But she learns how to stick to real friendship and I loved the climax we got, that Emily completed her list, so she creates a list for her. That adventure is for another spin off sequel, I hope.