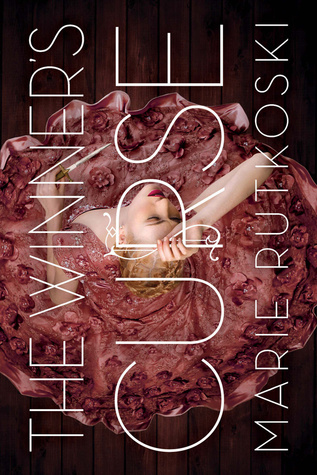 Source: Bloomsbury (Huge Thanks!)
355 pages
AUD Retail Price: $15.99
Book Depository:
http://www.bookdepository.com/Winners-Curse-Marie-Rutkoski/9781408858202
Barnes and Noble:
http://www.barnesandnoble.com/w/the-winners-curse-marie-rutkoski/1115382395?ean=9780374384678
As a general's daughter in a vast empire that revels in war and enslaves those it conquers, seventeen-year-old Kestrel has two choices: she can join the military or get married. But Kestrel has other intentions.
One day, she is startled to find a kindred spirit in a young slave up for auction. Arin's eyes seem to defy everything and everyone. Following her instinct, Kestrel buys him—with unexpected consequences. It's not long before she has to hide her growing love for Arin.
But he, too, has a secret, and Kestrel quickly learns that the price she paid for a fellow human is much higher than she ever could have imagined.
WOW! This book is fantastic. The story line and romance is epic; it isn't soppy but determined and consistent. Kestrel, the heroine is smart and kick-ass but can sometimes be frustrating (which will be talked about in the spoiler section). I don't know if you guys have noticed but I LOVE a good fantasy book and this is one of them.
My rating: 96%
Spoilers
These type of cliffhangers kill me more than those shocking ones. These ones leave too many questions and hearts broken (especially, mine). Kestrel and Arin have a strange sort of relationship. They are both extremely strong characters. Kestrel is determined to become her own person, to defy her father's desires. She's smart, observant, witty and strategic, She's like the kick-ass, lady version of Sherlock Holmes. I love her type of character. She can stand on her own two feet and doesn't need to be coddled and protected.
Arin is a great love-interest. I am head over heels with him. He's reliable, quiet and he isn't cocky. I love how he understood that Kestrel could hold herself but he was still respectably protective. He is probably my favorite character for the fact that he endured so much over 10 years. He made his determination and defiance clear without arrogantly voicing it. My favourite quote from the book is from Arin:
"Survival isn't wrong. You can sell your honor in small ways, so long as you guard yourself. you can pour a glass of wine like it's meant to be poured, and watch a man drink, and plot your revenge."
Isn't he wise? He is. For years, he was enslaved, his wealth and family taken away from him but he still manages to fall in love with a Valorian and he is adorably loyal and extraordinarily straight-headed for someone whose been through so much.
The ending killed me. I don't see why Kestrel can't just tell him why she had to be engaged to the Emperor's son and what deal she had to make. And it was because of him! What annoyed me was her doubt. This book is very political and I love politics. She's visibly torn between two countries. She pulls away from Arin for her dedication to her homeland. There's this tension between them and in a world like this and the situations they're in, I honestly can't imagine a happy ending for them.
This book was perfectly paced. Rutkoski created this vivid, fantasy word which relies on social standing, reputation and war. We got to see every aspect which make it up. Her friends, her society, her expectations; it's very much like the Victorian Era. There were balls and flirting and expectations which could lead to gossip. I loved how she manages to survive this world while also trying to sort out her own conflicts.
I am awaiting the next book: The Winner's Crime and it seems to concentrate a lot on the secrets between Kestrel and Arin. There's going to be a lot more drama in it than the first book and I'm looking forward to it!