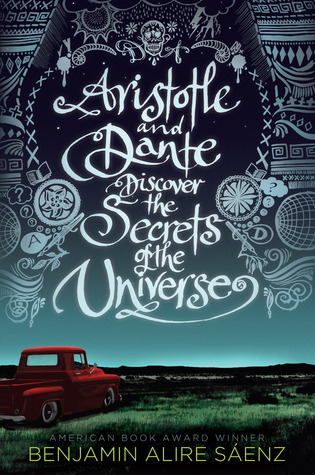 Source: Simon and Schuster (GRAZIE)
359 pages
AUD Retail Price: $11.99
Book Depository:
http://www.bookdepository.com/Aristotle-Dante-Discover-Secrets-Universe-Benjamin-Alire-Saenz/9781442408937
Barnes and Noble:
http://www.barnesandnoble.com/w/aristotle-and-dante-discover-the-secrets-of-the-universe-benjamin-alire-s-enz/1100479305?ean=9781442408937
Aristotle is an angry teen with a brother in prison. Dante is a know-it-all who has an unusual way of looking at the world. When the two meet at the swimming pool, they seem to have nothing in common. But as the loners start spending time together, they discover that they share a special friendship—the kind that changes lives and lasts a lifetime. And it is through this friendship that Ari and Dante will learn the most important truths about themselves and the kind of people they want to be
I have no idea what to think about this book. I finished it yesterday and I really don't know what to think. It's definitely not bad, I actually enjoyed it. It was brutally honest and the narrator who is Aristotle (Ari) has a similar voice to Holden from Catcher in the Rye. Actually, this book had a similar feeling to it. Dante and Ari's friendship is probably one of the best ones ones I've read (after Will and Jem's because who can beat that?). They have that bond which just clicks. This book is definitely not light-hearted and feel good, it's very deep and very controversial. If you feel like those life-changing contemporary reads that this is a definite choice. Plus, I like the cover.
My rating: 93%
Spoilers
I can split this book into two parts: the friendship part and the gay part.
Lets start with the first part.
Ari is so lonely, so melancholic, so driven to wallow in his sorrows that I swear he has depression. But when he meets Dante everything changes…mostly. As I said, they click. When they talk, they talk, there's no awkwardness but there are a lot of conflicting emotions. Up to the point of the accident everything if fine but after that, Ari starts to hate him. I have to admit that throughout this book, I couldn't understand Ari, I wasn't able to relate to him. His friendship with Dante was so strong to the point that he saved him, I was confused why he was so annoyed. We find out that it is because of the coddling and the sense that Dante owes him for that. It's very interesting how they solve that, actually. The "rules" that they put in place are like barriers to their conversations. They are both very different characters not only between each other but also in the book world. Sometimes, we find books with characters that are very similar but this time, Ari and Dante are both very different to any character I've read about. What I found particularly admirable is that the year that they spent apart, they still manage to maintain their friendship, even though Ari sent much less letters than Dante. A year is a long time and I loved that they were still strong friends. Then the second part begins when Dante returns.
The second part concentrates on the issue of homosexuality.
We know Dante is gay, it's mentioned and we know. We also begin to find out that he is actually in love with Ari. It gets very complicated. Their friendship isn't as light-hearted as the previous summer but there is an underlying stress between them. Dante loves him but Ari isn't gay. Then at the end, he is and BAM, they're together. It's very controversial, this issue about homosexuality, is it right or not, is it natural or not? That is a question for another debate not this book review.
What I also absolutely loved about this book was both their parents. They both have the world's most loving, funny and supportive parents in the world. It was especially Dante's dad and Ari's mum that played a huge parent role. There was also that issue about Ari's brother and that whole mystery that revolves around him. By the end of the book, Ari becomes more of a whole person, not quite but his character development was impressive. Saenz's writing is magnificent, it's simple and honest and refuses to beat about the bush and romanticize any of the issue that are raised in this novel.