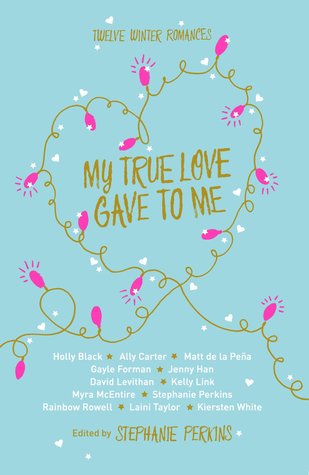 Before starting, may I please wish everyone a super, duper, ginormous MERRY CHRISTMAS!!!
Note, that the proper greeting is Merry not Happy. You, British people who say "happy", get it right!
Source: Bought – Kinokuniya (that place is HUGE and WONDERFUL)
355 pages
On the first day of Christmas, my true love gave to me …This beautiful collection features twelve gorgeously romantic stories set during the festive period, by some of the most talented and exciting YA authors writing today. The stories are filled with the magic of first love and the magic of the holidays.
Before you ask: yes, I did finish this book on Christmas Day, on purpose. I'm cheesy, like that.
Short story collections are really hard to review since I can't give it a rating for the whole book because some stories I disliked or liked more than each other. Am I supposed to talk about the book as a whole or individually? Let's start with as a whole. Anthologies, take time to read since you only have a short amount of pages to attach to the characters and understand the plot and just as you start getting into it, it will end. Then, in the span of a page, you have to quickly immerse yourself into a totally different book environment and figure out the next story out, the same way you figured out the previous one. It's tough stuff so I normally have to take a break between each story. In total, this book took me three days to finish. To me, that's a long time.
Each story is very different, not only in each character and story line but in writing style. In a book written by various authors, you really get to realize how distinct and unique each author's writing style is. Especially Laini Taylor's. I still haven't read the Daughter of Smoke and Bone (I know, I have to get on it) so I consider her little part of this book really unique. She's extraordinarily creative and original with how she puts together her story and her characters. I realize now, that I have to talk about each story separately and give them each a separate rating.. Before doing that, I'll say that the book as a whole was very enjoyable yet I'm not a huge fan of short stories since there's not enough development for me to love it.
My rating: Book as a whole

There's something about Rainbow Rowell's stories that I just automatically love. I'm a sucker for stories of best friend's falling in love. Mags and Noel had the best friendship. They were close and did everything together and of course, they start falling for each other. The book is told by Mags POV, each New Year's Eve at a party. Every year, Noel kisses another girl when the ball drops until the very last year where he realizes how much he loves her and they finally kiss. YAY! *party time*
Then the story ends *falls on knees and sobs*
I love this story. Mags is a honest character, she loves Noel. She doesn't lie to herself about it. Please Rainbow, write a full length novel about them!
The Lady and the Fox by Kelly Link
Kelly Link is a very strange writer and so are her stories. They are very original, almost too much for me. Miranda, the main character falls in love with a ghost, named Fenny. He's a ghost, right? That's what he kind of is in my head. He's trapped and can't be with her until somehow they do find a way. I really didn't understand their romance or how it came to be. Both of them, kind of consecutively meet each other every time it snows on Christmas, every year. They don't really develop a proper relationship. Don't get me wrong, I enjoyed it but Miranda is such a lonely person. Her mum's in jail and the Honeywells sounds like a family built on superficiality. I read Pretty Monster by Link and I remember absolutely loving it! I think it's because how difficult it is, to develop a romance in 20-30 pages. I can imagine how hard it is.
Angels in the Snow by Matt de la Pena
This story reminds me of those Christmas, New York movies where two lonely people meet and fall in love. This story was exactly like that. There's Haley and Shy. Shy's a Mexican, cat-sitting and Haley is a pretty girl whose trapped in her apartment building and her shower isn't working so she frequently goes down to Shy's apartment to borrow his. Can you just see a blossoming romance happening?
Well, through talking and dinner, they fall in love and Shy finds out that Haley's shower wasn't broken after all. This story is very feel-good and Shy is very much like Aristotle from Aristotle and Dante Discover the Secrets from the Universe. I liked it.
Polaris is Where You'll Find Me by Jenny Han
I adored this story!
Natty is a girl who was abandoned on Santa's Sleigh so she becomes his adoptive daughter and lives with him among the elves who aren't tiny but elegant and tall. I loved it! Natty loves one of the elves who is her friend, Flynn. Meanwhile, no one believes her first kiss story with a blonde boy called Lars which actually did happen. But still, there's Flynn. The book ends with a kiss between them which was her Christmas wish and a paper in her hands with Lars' address. This book ended so abruptly! I didn't want it to end! It was very nicely written and Natty is a character that I related a lot with. She's stubborn yet also kind-hearted. I want more of her story! She lives with freaking Santa, I want to be her!
It's a Yuletide Miracle, Charlie Brown by Stephanie Perkins
Another author whose an automatic love!
I loved the dialogue between the two characters: Marigold and North. It's snarky, slightly flirty yet also serious. They just clicked so well! The way they work together and talk, I was just chanting "Kiss! Kiss! Kiss!" I loved how unique both the characters are. Marigold does cool animation videos on her Youtube video and North works at his family's Christmas Tree farm. She talks a lot about how awesome North's voice is. While I find that a tiny bit creepy, I still really want to hear it. Loved the story, loved the kiss at the end and the certainty that they're meant to be together and they will stay together. A full length story about them too, please!
Your Temporary Santa by David Levithan
This was the only gay romance in the novel and while I've read some very well done gay romance, this was not the best. I don't even think this story had a lot of romance in it. It was just a story about a guy who has to pretend to be Santa for his boyfriend's sister. And while that's happening, stuff happens. It was kind of strange. Anyway. yeah. That's all that happened…..
It was very bland and not a lot happened.
Krampuslauf by Holly Black
Another strange story like The Lady and the Fox. I haven't read any of Holly Black's novels except for the Spiderwick Chronicles which I loved as a child but I was still very unfamiliar with her style. So there's magic and a New Year's Party but there isn't really any romance. There's an attraction, sure but to a hot satyr which I cannot imagine to save my life. They kiss, he grants her wish not to forget there magic in the world and POOF, he's gone. It's very much like Lament by Maggie Stiefvater.
My individual reviews are getting shorter, I know.
What the Hell Have You Done, Sophie Roth by Gayle Forman
I love that Gayle used different characters in this story. I noticed in the anthology that the authors moved away from using norm, white characters and using Asian, African American and Jewish ones. I loved it. It was refreshing and it helped me relate a lot better to them since I'm not Caucasian, myself. In this story, Sophie is a Jew and Russel is an African American. I also adored this romance. It made me so hungry since they eat a lot of pie and pie is one of my favourite foods. I want pie, now! Their kiss at the end was very sweet and the town where it set it very small-town minded. This story was very enjoyable but as usual ended too soon.
Beer Buckets and Baby Jesus by Myra McEntire
Vaughn reminded me so much of Leo Valdez. He's immature, reckless and the ultimate prankster. Of course, I fell in love with him. This story also ended with a kiss but I felt that the romance between them was very insta-love. There's no history of attraction between them. It was like, "Hey, I like you!" It's hard to explain but yeah. All the stories in this book is very fuzzy in my head so, I'm getting really tired writing this review.
Welcome to Christmas, CA by Kierstin White
I like stories with food and this story has food!
Ben is so cute! I want to marry him because of his cooking and I can't cook for the life in me. Plus, he's adorable. I loved the story and how he pops out of nowhere and helps Maria become a better person. I loved her family and how Maria's step-dad wasn't the kind of person who showed affection easily but still cared for her. I just went "aw" when I found out that he had been saving up to send her to college and that he stayed up watching tv just so that she wouldn't be alone during her insomnia. It was all so loving! I was happy when Candy left, her boyfriend is an arse. The romance, of course was swoon-worthy.
Star of Bethlehem by Ally Carter
Two girls swap plane tickets and one big adventure starts. Liddy is pretending to be Hulda and stays with the family who Hulda was supposed to stay with. On the way, she finds love with Ethan. Everything becomes exposed that she's some sort of Youtube singing sensation and she was running away from all the superficiality of the music business. The romance develops very funnily. Ethan knows she is not who she is, so he hints it sarcastically and hilariously. I'm getting really tired of these good stories ending.
The Girl Who Woke the Dreamer by Laini Taylor
As I said, Laini Taylor is a very talented and unique writer, this story especially. I was fascinated with this weird world she created where suitors give their sweetheart a gift each day for 24 days, leading up to Christmas Day. Neve catches the eyes of the creepy, perv preacher so she pleads to Wisha, the dream God for protection. He awakens and he falls in love with her and also joins in with the gift tradition. This story was very fantastical and mythical and I love that sort of thing. This story made me very desperate to read the daughter of Smoke and Bone trilogy which I have only heard amazing things about.