As you can probably deduct from the title, I will be doing weekly recaps. YAY! Cue crazy dancing…..
They're mostly for my benefit than yours because I am HUGELY disorganised with my life and I'm always finding myself out of track with my blogging life vs my real life.
…Are they different things?… Maybe a discussion post for another time….
Anyway while doing this, I have finally come up with a schedule. I've been improvising for as long as I could and the time has come when lists are in dire need.
Onto this week's recap!
ON THE BLOG:
February Book Haul
I recently posted my February book haul its been jam-packed with HEAPS of books and VA awesomeness.
Book Blitz: Red by Alyxandra Harvey
There's a giveaway for a $50 Amazon giftcard open INTERNATIONALLY. I know what free money does for you guys, so off you go.
Book Review: Noise by Brett Garcia Rose
Super action-packed with Liam-Neeson-like awesomeness!
IN THE BOOKISH WORLD:
The bookish world has been packed with awesome news and cover reveals!!! As always, this only rose my fangirl excitement.
Throne of Glass #4: Queen of Shadows by Sarah J Maas COVER REVEAL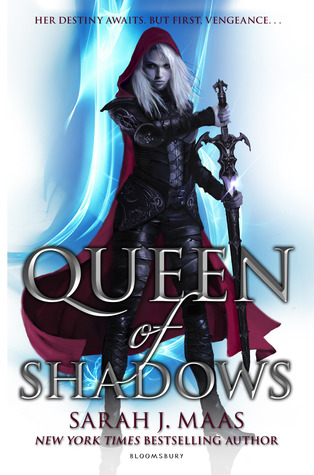 We were not disappointed with the cover, AT ALL!!! Did the artist deliver or did she deliver??!!!! I kind of like the purple background better but the blue fire is still bad-ass. SO EXCITED for this book!!!!
Lunar Chronicle #4: Winter by Marissa Meyer COVER REVEAL
YAYAYAAYAY!!!! Another one, I cannot contain my excitement for. After how good Cress was, I have high expectations for this one! I do really need to re-read the series again, though.
Paper Towns Movie POSTER REVEAL
Honestly, I don't really like it. It's a bit unoriginal and its really just two faces stuck together. Still, I cross my fingers that the movie is good.
IN MY LIFE:
– Assessments upon assessments upon assessments. There is just one huge workload for me and on top of that I have violin, debating, work, maths tutoring and mock trials. Why must life be so cruel!
– I've been re-listening to the CS Lewis Song by Brooke Fraser because I remembered how much this song describes me (along with I Wanna be Like Me by Ara Bareilles). There's always a huge satisfaction when you find a song that understands.
– The first 16th of the year was last night. It was a great party! There was heaps of dancing but as always I did prefer to be reading. Booknerd problems: preferring fictional people to real people.
– We lost our first mock trial and yes, I was pretty disappointed. I was a witness and while it was fun watching the opposition try to pick holes in my statement, I got pretty frustrated at them and ended up blurting that I couldn't read minds when they asked me what the victim's state of mind was before her death. I really don't know if that was good or not.
CURRENTLY READING:
I recently received this in a HUGE package from Allen & Unwin. THANK YOU SO MUCH! I'm in kind of a reading slump since I have load and loads of assessments and studying to do so I'm only 100 pages in after a week of reading it. But I just know, it will be good since I absolutely loved her Moorehawke Trilogy.
I think I'll still be doing monthly book hauls because you guys all understand the effort (and squatting) it takes when it comes to photography.
Thanks so much! Hope you enjoyed this one!