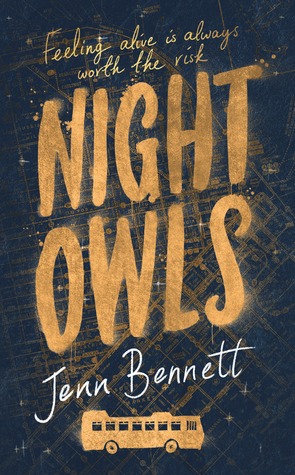 Night Owls
by Jenn Bennett
Feeling alive is always worth the risk.
Meeting Jack on the Owl—San Francisco's night bus—turns Beatrix's world upside down. Jack is charming, wildly attractive…and possibly one of San Francisco's most notorious graffiti artists.
But Jack is hiding a piece of himself. On midnight rides and city rooftops, Beatrix begins to see who this enigmatic boy really is.
I'm so obsessed with this book right now.
It's cute, quirky, artsy, honest, vivid and entertaining from the very beginning. I love how it starts on a night bus and progresses from an unlikely friendship between two strangers into a blossoming romance that captures your heart. It will mesmerise you from the beginning and keep you late at night intrigued and captured by this classic boy likes girl, girl likes boy story. I've missed a well-done romance like this one and this one is on point about EVERYTHING.
Meet Bex (Beatrix), a girl who dreams of drawing anatomy and Jack, a handsome and notorious graffiti artist. They both meet on a San Francisco night bus and from there, their romance flourishes into something undoubtedly dreamy and swoon-worthy. I could not tear myself from this book. I laughed and 'awed' soooo much. It's one of those books which engulfs all your emotions. Bex is quirky girl who from the outside seems calm and collected but inside, is determined to break into the world of anatomy art. I admired her drive to pursue something unconventional and her persistence even if it means disobeying her Mother (probably not the wisest the decision but YOU GO, GIRL). Jack is just the epitome of swoon-worthy cuteness. He's charming, honest and good-hearted. His artistry is different from Bex's where his is simple and emotional. His words graffitied on monuments of the city striking deep into the people of the city.
The writing is superb, the pacing fast but patient. Bex and Jack's relationship is developed nicely with a mix of light flirting and emotional confessions. I have no other words except to say that is was perfect. The story-line isn't just entirely based on their romance but this books also addresses the effect of it on their own lives – Bex's own endeavours and the danger of Jack's art. Along with that, Bex has family problems with her father entering her life for the first time in years and Jack's rich, political family who seems only concerned with keeping up appearances. But throughout it all, their romance is always the peak when things get too hard.
Despite the classic romance, there are issues that are addressed including mental health – specifically depression and schizophrenia – and family. I actually ADORE how much family played a key role in their relationship. It isn't just a blind romance, ignore the whole world kind of thing. No, both of them were involved in trying to encourage each other and solve their personal issues. I love that kind of relationship. They both KNOW each other and I admired how Bex demanded to know and talk to Jack before she started anything serious.
A capturing, cute and FANTASTIC romance which at the same time addresses the role of family and mental health. Plus, it's a HEALTHY romance instead of an annoyingly blind one. Definitely on my list of highlights for this year.